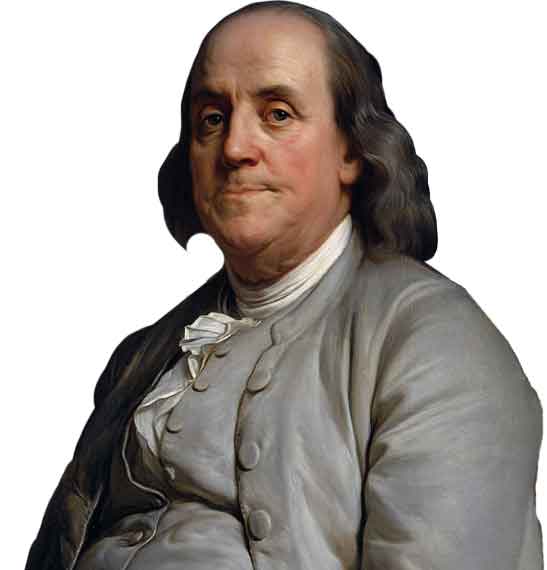 Benjamin Franklin holds the honor of being the most notable figure in the US and the rest of the world. From America's independence to scientific inventions, his key role remains highly praised. He spread knowledge through newspapers by publishing his inventions. Also, he never claimed the legal rights to be the owner of any invention by registering patents. As a well-wisher of humanity, he rejected slavery.
Biography – Lifespan
Benjamin was born in the year 1706 in Boston Massachusetts, British America. His father, Josiah Franklin, was a candle maker and his mother was Abiah Folger. He received his early education at Boston Latin School and left school when he was only 10 years old.
At the age of 12 years, he joined his brother for on-job training on printing. And by the age of 23, he published his newspaper Pennsylvania Gazette. Besides, he worked on scientific inventions as well. By 1767, he began to work with Pennsylvania Chronicle – a newspaper that often criticized British policies. Two years later, he led the resistance against the Stamp Act 1765 that required printing to be done on stamp paper.
In politics, Benjamin received a lot of success and became the first ambassador to France. Due to his clever skills, France became an evergreen friend of the USA and even helped the US by providing weapons. Furthermore, Benjamin also remained the governor of Pennsylvania from 1785 to 1788.
Benjamin's great role in science is also very remarkable. He is famous for contributing to the field of electricity. Besides, he worked on different subjects like weather, sea tides, winds, and population. In short, his life shows one of the finest examples of modern leaders. Benjamin died in the year 1790 at Philadelphia, Pennsylvania, US.
Contributions and Discoveries
Benjamin's inventions and contributions to science are very remarkable. He became a good scientist due to his curiosity for science. Due to his role in the formation of America, he was given the title of "First American".
Some of the most notable contributions, inventions, and discoveries are:
Static Electricity – Benjamin was the first to identify that thunderbolts are the sudden release of static electricity. Also, he named the positive and negative charges of electricity and gave the concept of controlled use of electric charges. His experiments led him to make a device with multiple plates called an electrical battery. Moreover, he conducted an experiment by flying a kite to prove that clouds have static electricity. In addition to this, he also invented a lightning rod.
Gulf Stream – He studied the flow of winds over oceans that allowed ships to sail on longer routes. He called those winds in the Atlantic Ocean as Gulf Stream. Besides, he also informed that storms don't travel in the direction of running winds.
Demography – Benjamin studied very carefully the growth of human population – also called demographic study. He said that the growth of the human population is mainly based on food supplies. Since America had vast farm-lands, therefore, its population would be doubled in a century as compared to the British. His study gained a strong focus by British economists.
Music Instruments – Benjamin invented a glass harmonica and string quartet – a group of four persons to play music on the violin and guitar.
Chess – Benjamin is known as the first chess player in the US because he was the first to play chess after the official independence of America. Moreover, he published an essay in Columbian Magazine with the title "The Morals of Chess" in 1786.
Interesting Facts
He became the first postmaster general of the US in 1775.
He was the first secretary of the American Philosophical Society and was elected as the president of that society in 1769.
Benjamin's portrait is printed on every hundred dollar bill in the United States.